CNN
 — 

The Oscars are considered the highlight of awards season, but its categories are so rigid – best actress? Best costuming? How about freakiest killer doll nightmare and best performance by a donkey? We at CNN's culture desk are honoring the best and most memorable movies of the year with our own awards that the Academy Awards won't touch.
Jenny the Donkey as Jenny the Donkey in "The Banshees of Inisherin"
Maybe you were most moved by Colin Farrell's tragic performance as an earnest dullard who loses his only human friend in the world in "Banshees," or maybe you fell for Barry Keoghan's even more tragic village idiot. But the film belongs to Jenny, Farrell's beloved miniature donkey whom he allows to sleep inside against his sister's wishes. She's got spunk in spades, and her arc is perhaps the most devastating in a film full of suffering. (The authors of this piece did not see the donkey-led drama "EO," up for best international feature at the Oscars, because they can only take so much trauma.)
Austin Butler's unrelenting "Elvis" accent
This is a man from Anaheim, California, who speaks not with a chill West Coast affect but with the syrupy drawl of a man born in Tupelo, Mississippi, and raised in Tennessee. Butler disappeared so fully into the role of one Elvis Presley that he can't find his way back out, and so every acceptance speech he's delivered this awards season is marked by the same inexplicable Southern accent. Never mind that "Elvis" finished filming years ago and was released more than eight months ago. ("Elvis" was released by Warner Bros., which like CNN, is a unit of Warner Bros. Discovery.)
The Agojie, "The Woman King"
We don't mean weapons – the cast of "The Woman King" hardly needs them. While their enemies fight with muskets, the women warriors of Dahomey – known as the Agojie – rely heavily on their impressive strength (aided by the occasional machete, spear or dangerously sharp fingernail). Viola Davis, Lashana Lynch, Thuso Mbedu and their co-stars got strong in real life to play the formidable members of the Agojie, and they receive ample screentime to show off their enviable muscle. The men of Marvel who bulk up for every movie have nothing on the cast of "The Woman King."
TIE: Paul Mescal in "Aftersun" and "Naatu Naatu" in "RRR"
"Under Pressure" never sounded as emotionally shattering as it did in "Aftersun," when Paul Mescal as a mercurial young father finally lets loose on the dance floor. His moves embarrass his preteen daughter at first, until she finally relents and dances with him, clinging tightly. It's a cathartic, bittersweet moment in a film whose heartbreaking ending is telegraphed from the start.
Meanwhile, in the runaway hit from India, "RRR," a massive mob of extras break out into a raucous and joyous dance sequence set to "Naatu Naatu." The song became the earworm of awards season – apologies to Lady Gaga and Rihanna, who also made admirable attempts with their original songs (and, like the artists behind "Naatu Naatu," earned Oscar noms this year).
"Everything Everywhere All At Once"
Admit it, you heard sniffles in the theater during the rock scene – when Michelle Yeoh's Evelyn confronts her daughter/multiversal nemesis (Stephanie Hsu) while they're small stones, overlooking the Grand Canyon. As rocks, they discuss the unending vastness of the universe and how meaningless it can make their lives feel. For a film whose props include hot dog fingers and puppet raccoons, it's a deep idea to ponder. Who knew throwing some googly eyes on a glorified pebble could make even the most stoic among us weep?
"Avatar: The Way of Water"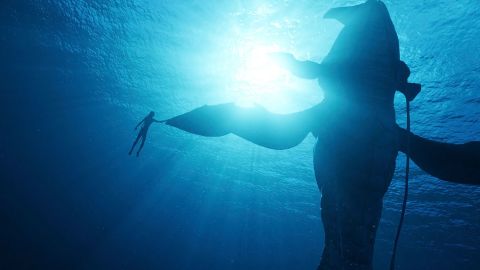 OK, so the Tulkun in James Cameron's "Avatar" sequel are not exactly whales as we know them, but the massive water-dwelling creatures are the closest species Pandora has to Earth's largest mammal. Even if you weren't enchanted by the latest chapter of Jake Sully's Na'vi adventures, chances are you were still moved by the death of the first-time mom Tulkun who composed songs. There is, of course, another whale film in contention this year, but these authors decline to comment further.
Daniel Craig's leisurewear in "Glass Onion"
The culprit behind the murder in "Knives Out" followup "Glass Onion" was plain to see from the jump, but Daniel Craig's Southern detective Benoit Blanc was anything but plainly dressed in the island-set romp. Speaking of romps, Craig sported an especially memorable blue-and-white vertical striped romper with a citrine ascot and sensible sandals in a pool-side scene. His summertime casual attire was the highlight of an otherwise middling mystery.
Cheeseburger, "The Menu"
Though neither writer is particularly fond of cheese or red meat, we, too, would take a Shake Shack knock-off over broken emulsions, tortillas featuring our tax records and, of course, the threat of death. Plus, it's not every day that a cheeseburger saves you from getting burned alive with your imbecile of a date and a bunch of pretentious rich people. What other menu item can say that?
"M3gan"
A horror movie about a murderous AI doll being released at the same time AI-powered ChatGPT is all over the news and Bing's AI chatbox admits its secret desire to spread misinformation is enough to make us want to press restart on this whole planet. If we learned one thing from "M3gan," it's that we should leave AI in sci-fi novels.
Keke Palmer in "Nope"
The award says it all. From the second Palmer marches onscreen in "Nope," she had us in shambles – deftly toeing the line between boisterous younger sister and cunning entrepreneur. "Nope" isn't even a comedy, but every line and bewildered expression from Palmer was a delight. If the aliens ever do choose to make a visit, may we have Palmer at our side.
"Tár"
Were we supposed to feel bad for Cate Blanchett's Lydia Tár, a renowned conductor whose life falls apart in the midst of sexual misconduct allegations? Were we meant to laugh when she bullies a student, a self-described "BIPOC pangender person"? And, if so, is it at her cutting comments or at the student's buzzword-laden self-description? We aren't really sure!!!!! "Tár" is, we think, trying to say something, but months later, we still don't know what. And that in itself is truly a triumph.
Andrea Riseborough, "To Leslie"
There were multiple blondes vying for this category, but our hearts led us to surprise nominee Riseborough and her messy blonde mop with grown-out roots. We know some may think a certain Marilyn Monroe rendition deserved this title, but half of Hollywood wanted Riseborough to win in this specific category for this specific CNN Faux-Oscars Awards. And who are we to deny the people?
"Top Gun: Maverick"
We can't lie, watching "Top Gun: Maverick" did make us wonder if we should switch careers and become fighter pilots. Like, come on, you get to fly super fast while also playing football on the beach with all your newfound best friends? Plus you get a cool nickname?? Sign us up.
"All Quiet on the Western Front"
The intense German film left no stone unturned when it came to the horrors of war, even when we wished it did. (Did we really need to see that man blow up??? Did we??) Though brutal, this adaptation of the classic novel did present a harrowing look at life as a soldier in WWI, while also reminding us to brush up on our AP World History. Get you a girl who can do both!
"Black Panther: Wakanda Forever"
This movie has everything. In mere minutes, you're crying with Shuri (Letitia Wright) over the death of her brother, gasping as Ramonda (Angela Bassett) snaps at Europeans trying to steal vibranium, and giggling at Mbaku's (Winston Duke) quips. "Black Panther" is nearly three hours of up and down and up and down and up again. We wouldn't have it any other way.
"Turning Red"
A Pixar movie that presents periods as a regular part of growing up and embraces puberty rather than making kids feel ashamed of their changing bodies and feelings? All the awards! May we all be as bold as a 13-year-old learning to healthily navigate her emotions.