CNN
 — 

Russian President Vladimir Putin punctured the balloon of anticipation in his state of the union speech Tuesday. He didn't declare martial law or announce a new wave of military mobilization; he recycled the same lines about his rationale for invading Ukraine nearly one year ago; and he outlined no vision of how the war he launched might end.
But Putin did offer at least one headline, announcing that Russia is suspending its participation in the New START nuclear arms reduction treaty.
"The US and NATO openly state that their goal is the strategic defeat of Russia," he said. "And what, after that are we just supposed to let them to travel around our (nuclear) facilities?"
Putin was referring to complaints by US officials that Russia was violating New START, the last remaining arms-control agreement governing the world's two largest nuclear arsenals, by refusing to allow US inspections of its nuclear facilities.
"They want to inflict a strategic defeat on us and climb all over our nuclear facilities," Putin said. "So I'd like to make the announcement today that Russia is suspending its participation in the START Treaty."
The Kremlin leader hastened to add that Russia is not withdrawing from the treaty entirely, only suspending participation. But he prefaced his remarks on arms-control with a lengthy tirade about the West's alleged aims in providing aid to Ukraine.
"I don't know how to call this other than a theater of the absurd," Putin said. "We know that NATO is complicit in the attempts by the Kyiv regime to strike our air bases. And the drones used for this have been equipped and modernized by NATO specialists. And now they want to come and inspect our bases? Given the current confrontation, this just sounds like complete nonsense."
Suspending the New START Treaty in some ways continues an uneasy status quo. Under the agreement, the US and Russia are permitted to conduct inspections of each other's weapons sites to verify compliance, but those inspections had been on hold since 2020 due to the Covid-19 pandemic.
Putin's speech, then, was nothing new. In his rambling, one-hour-and-45-minute address, he offered some warmed-over options from a menu of complaints about the West and rehashed the same justifications for his full-scale war on Ukraine.
His address, in fact, was reminiscent of the television speech that aired on February 24, 2022, announcing the start of the invasion of Ukraine, Russia's so-called "special military operation." Putin repeated the same baseless claim that Moscow had no choice but to use force against Ukraine. And he doubled down on blaming the West for the conflict.
"I want to repeat: it was they who unleashed the war," Putin said. "And we used and continue to use force to stop it."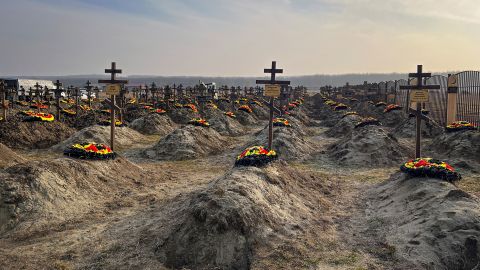 Such remarks seem intended for a domestic audience that in many ways has seen their sense of normalcy upended. So Putin also played the reassuring wartime leader, holding a moment of silence for soldiers killed in Ukraine, and promising that Russia will set up a special fund to offer assistance to families of veterans and soldiers killed in Ukraine and bolster social benefits for them.
The Russian president also indirectly addressed some of the discontent in the ranks that has filtered back to the Kremlin following a partial mobilization last fall. Mobilization has been beset by morale-sapping logistical difficulties, supply problems and general disorganization, causing major outrage in Russian society. Putin pledged that rotations in Ukraine would be more predictable, and that soldiers would be given much-needed leave.
"Service in the zone of the special military operation – everyone understands this very well – is associated with colossal physical and psychological stress, with everyday risks to health and life," he said. "Therefore, I consider it necessary to establish for the mobilized, in general for all military personnel, for all participants of the special military operation, including volunteers, regular leave lasting at least 14 days and at least once every six months, excluding travel time, so that each soldier has the opportunity to visit families, to be close to relatives and friends."
That statement can be interpreted another way: Russians need to settle in for a long war, so soldiers should expect some R&R.
The response to Putin's speech from many Ukrainians was, for those who could be even bothered to pay attention, utterly dismissive.
Mykhailo Podolyak, adviser to the Head of the Presidential Office of Ukraine, suggested that Putin had lost the plot.
"Putin publicly demonstrated his irrelevance and confusion," he said on Twitter. "Because everywhere there are 'Nazis, Martians and conspiracy theories.'"
That's a mocking appraisal, but in many ways an accurate one. The main takeaway for Russians from Putin's address was: You are surrounded by enemies, they started the war, and there is no light at the end of the "special military operation" tunnel.